After the heat of Imola, the FACH AUTO TECH team went to the Dutch North Sea coast from 24 to 26 June. In the fourth round of the Porsche Carrera Cup Deutschland in Zandvoort, Christof Langer was able to secure his first podium of the season in the ProAm classification. Rookies Alexander Fach and Lorcan Hanafin scored further podium finishes in their class and top 10 overall finishes.
"We were able to finish the weekend satisfactorily with the two podium finishes in the rookie classification," team principal Alex Fach sums up. "After the difficult starting positions, the guys got the best out of the races. In addition, Lorcan and Hanafin have extended their one-two lead in the rookie championship."
Christof Langer was also able to celebrate on the podium for the first time this season. The Porsche driver held his own in the first race despite a race interruption, restart and several safety car phases – which ultimately paid off with 18th place overall and third place in class. "The weekend was a dream come true! The podium success came somewhat unexpectedly, so we were all the happier. We can also be satisfied with fifth place on Sunday," said Langer. "In qualifying, I felt good despite the rain and was fast – a successful weekend all round."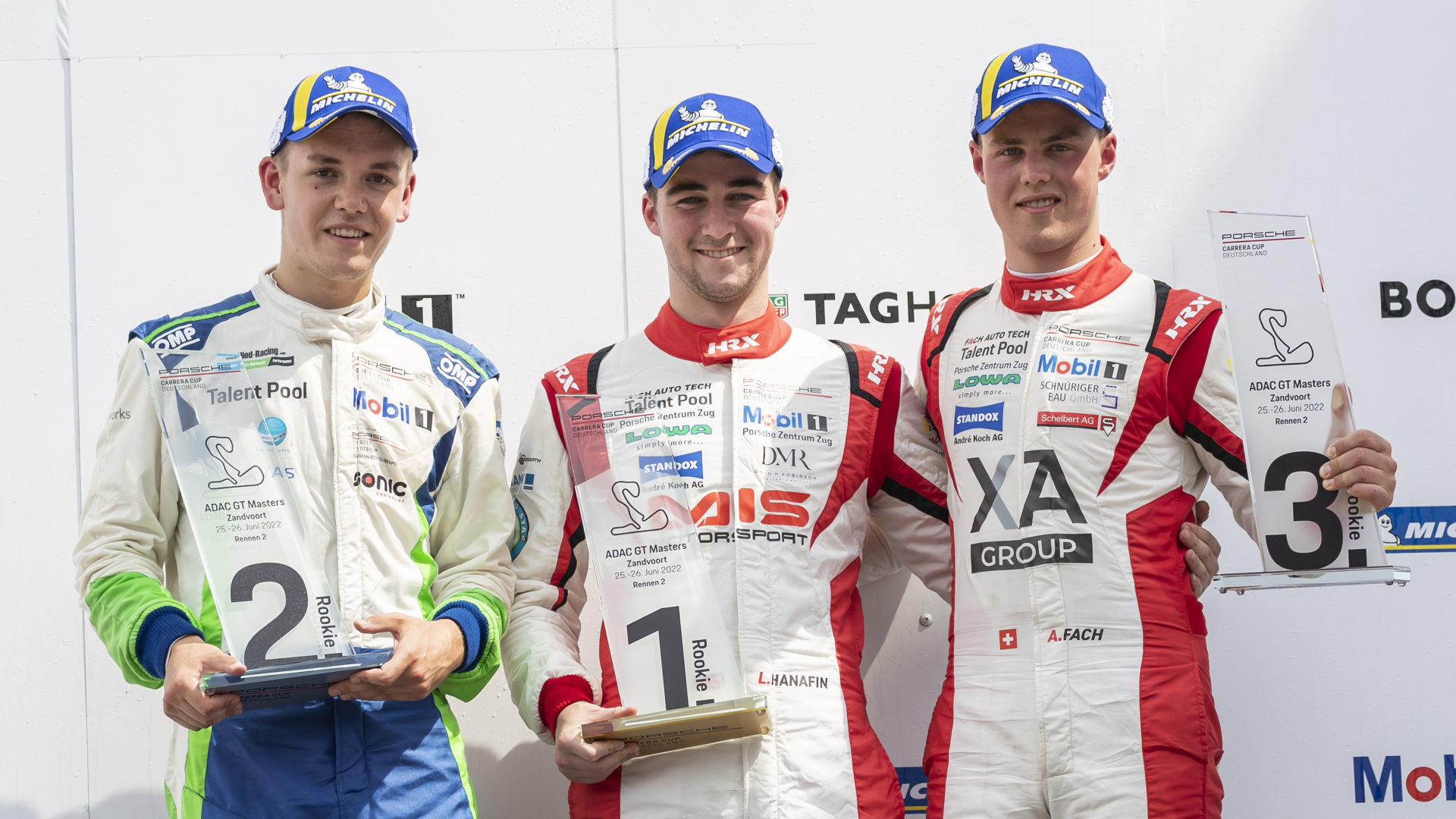 Teammate Lorcan Hanafin also made it onto the podium. In both races, the 19-year-old again secured two top 10 finishes and took the lead in the rookie classification. Hanafin laid the foundation for this with two strong races to catch up. From 17th on the grid, the Brit managed to work his way up to ninth place on Saturday. In the second race, he went from 16th to tenth position.
Hanafin was visibly happy with these results: "It was a really good weekend. In the races, I fought my way through the field and in the end even clinched victory in the rookie class. I couldn't be happier and I'm looking forward to my home race at Silverstone."
Team colleague Alexander Fach, who is also Hanafin's toughest competitor in the class, went through ups and downs. On Saturday, the Schwyzer had to park his Porsche 911 GT3 Cup early due to a collision through no fault of his own. In the second race, however, Fach made amends and, with twelfth place overall, also secured a place on the rookie podium. "My start of the second race wasn't that good, so I had to fight quite a bit for positions. The drivers in the Carrera Cup are really strong, so I can be happy with my result," explained Fach after the eighth race of the season.
The next stop for FACH AUTO TECH is scheduled for 1 to 3 July when the Porsche Mobil 1 Supercup makes a guest appearance as part of the Formula 1 Grand Prix at Silverstone in the UK.